For over 200 years, the Lutheran church has supported the well-being of pastors and their families, so they can live with confidence and peace of mind. Portico is honored to carry out this legacy by providing unique and comprehensive benefits that strengthen the well-being of those who serve.
Celebrating Those Who Serve 2:48

Whether it's a calling, a vocation, or a career — when you serve others, Portico serves you.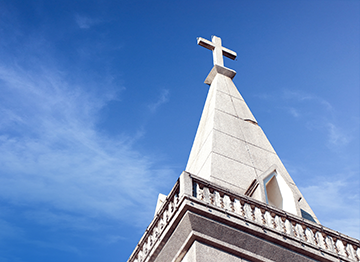 A Tradition of Compassion, Service, and Innovation
The Early Years

As an act of charity, the Lutheran church began providing benefits to families of pastors who died while in service to the church.

1748 First Lutheran Synod in U.S.
1783 The Lutheran Church begins paying benefits to widows of pastors. Retirement
1831 First Lutheran Pension Fund established. Retirement
1875 First corporate pension plan established in the U.S.
1945 The church creates a new plan for congregations and clergy to contribute to retirement. Retirement
1955 U.S. law allows ordained ministers to contribute to and receive Social Security upon retirement.
1960 American Lutheran Church adopts first retirement plan for pastors and lay employees. Retirement

An Era of Growth Together

What began as charity evolved into a crucial commitment to the well-being of those who serve in the church, social ministry organizations, and higher education.

1970s–80s Social injustice and apartheid discussed in the church.
1987 ELCA constituted by uniting three church bodies, 285 social ministry organizations, and other entities that address human needs.
1988 First ELCA health plan launched. Health
1988 Social purpose funds established in alignment with ELCA social teachings and policies. Retirement
1989 First Group Retirement Plan created for social ministry organizations. Retirement
1993 During Churchwide Assembly, Special Needs Retirement Fund established for those with limited means. Retirement
2002 Helped create first coalition to negotiate cost-effective prescription drugs. Health
2002 Holistic well-being introduced with online health assessment. Wellness
2004 Wholeness Wheel created, symbolizing the ELCA's wellness model. Wellness
2005 Retirement Planning Group formed to provide 1:1 support for clergy nearing retirement. Retirement
2006 Employee Assistance Program (EAP) offered to provide members with emotional support. Health
2008 HRAs and FSAs made available to members. Health

Innovation for the Times

Portico continues to build on the legacy of our predecessors, leveraging the latest technology and advancements to help support holistic well-being.

2012 Individualized retirement tracking report developed for members. Retirement
2013 Health plan options expanded for health care reform. Health
2017 Care Coordinators introduced to help members navigate complicated health issues. Health
2017 Retirement Planning Tool helps sponsored members better plan for retirement. Retirement
2018 First-of-its kind wellness platform released, allowing members to tailor their experience. Wellness
Source: Portico Historical Perspective 2018
Portico Benefit Services was formerly known as the ELCA Board of Pensions.